WHEELCHAIR HIRE
A wheelchair can be booked on an hourly basis (free of charge) from the Centre Management office for use within the centre.

Wheelchair Recharge Points
There are 4 re-charge points located in the Centre for electric wheelchair battery charging.
FREE WIFI
Connect to our WiFi for free every time you visit. Follow the steps below to get connected now!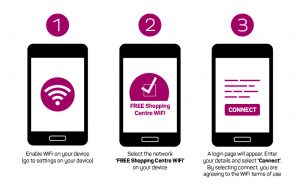 SUBSCRIBE TO THE E-NEWS
This is your source for what's trending, new stores, and special offers.